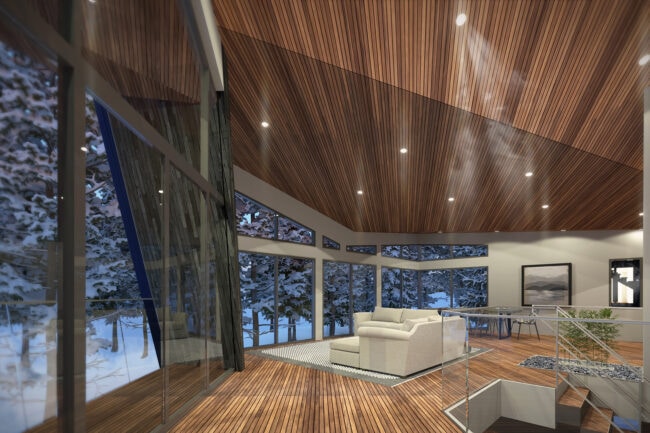 Griffin House – Niseko | STE-AD
The view from the bridge, looking toward the main living space and dining room on L1, where you have open views of Mount Yotei in the distance.
The interior space consists of high ceilings articulated with folding planes, clad in timber. To the left is a large balcony to sit and enjoy the scenic nature of the wood site location. To the right lies the master bedroom and staircase down to the main entrance foyer.
The concept design of Griffin House in Niseko, Hokkaido, Japan, consists of vertical walls with an open-air Robinia Timber rain screen. The inclined vertical walls that form the entrance on the ground floor and the balcony on the first floor are clad with a solid, or butt jointed, Shou Sugi Ban timber.
3D Perspective plans are used to inform the design process. It is a quick way to understand not only the floor plans but the spatial implications of what is drawn in 2D.
The floor plan for Griffin House was inherited and revised slightly to achieve
certain requirements for the functionality of the layout. Given these constraints
STE-AD proposed a concept of folded planes, similar to origami, to achieve
the desired aesthetic.